Project Description
Escape to New Orleans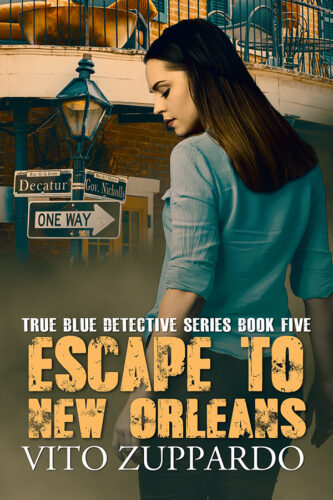 True Blue Detective Mario DeLuca has been drugged, unable to respond. Is it really happening or just another of his recurring nightmares, where an unknown man is chasing him? The stress of police work and his personal life are overwhelming.
Chief of Detectives Gretchen Parks sends him to Las Vegas to a convention, encouraging him to go a day early to the second most exciting city in America. Of course, New Orleans is number one in Mario's heart.
However, Parks is concerned about her sister, who is visiting Las Vegas, and thinks she's seen her daughter, Sophia, who was kidnapped and has been missing for six years. The chief sends Mario to explore the situation.
He finds the mother and locates the daughter, hatching a plan to get her back from her sex-trafficking Salvadoran kidnappers. But the girl doesn't know who she is or what's happened to her after being drugged for many years. She's afraid to leave with Mario, as others will be killed if she does.
Eventually, they escape the kidnappers and fly to New Orleans, where Sophia is placed in protective custody. Trying to stay one step ahead of the Salvadorans, who want the girl back, and unravel the mystery of how Sophia ended up with them creates international intrigue. Various law enforcement groups work together to stop the horrendous abuse of young girls.
Set in the history-filled city of New Orleans, readers will feel part of the city as they travel the streets and waterways in this action-packed, intriguing, and heartfelt book to discover more adventures in the True Blue Detective series.