Crescent City Detective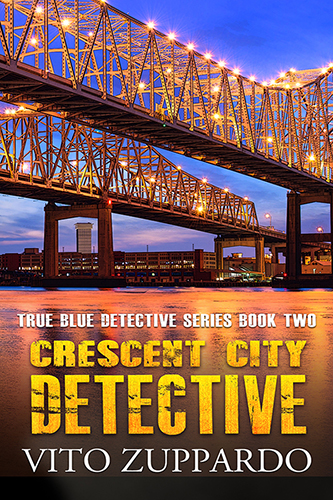 Mario DeLuca, a respected New Orleans detective for over twenty years, has put many criminals behind bars and there is not a one that wouldn't want to see him dead. Felipe Cruz, in court promised he would get even with Mario—one day. He still controls the streets of New Orleans from a prison cell and makes good on his promise. Felipe orders an attack on Kate Fontenot, Mario's fiancé and has her fighting for her life in a hospital. No better way to get revenge in Felipe's world than to go after a loved one—and let Mario watch her suffer from the sidelines.
In the second book of the True Blue Detective series author Vito Zuppardo takes you back to Riverside Inn where fate catches up with Dr. Walter Ross. The mysterious death of another Riverside resident is the demise of the doctor's black market organ enterprise.
Once again Zack Nelson a retired New Orleans detective and resident of Riverside teams up with Mario and Howard their mysterious friend and limousine driver. Together they go after Felipe Cruz and the Cornerview Gang after a second botched kidnapping attempt on Kate Fontenot.
Mario fed up playing by the rules and having high profile lawyers get criminals out of jail faster then he can arrest them, takes the law into his own hands. Mario takes an untraditional route to fight crime with the help of Howard and Zack. Together they take down Felipe and his crew in a showdown Felipe never saw coming.