Street Justice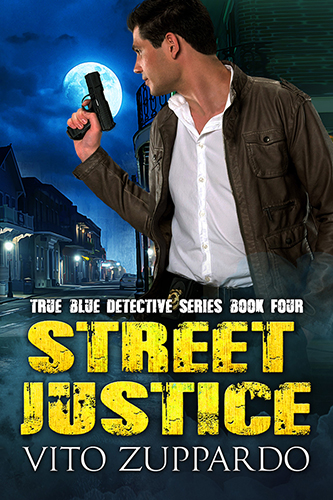 Detective Mario DeLuca continues his police work in New Orleans in this fourth book in the True Blue Detective series. In charge of the Homicide Division in the Eighth District, he sees more than his share of murders, robberies, and crime.
When his life is threatened by the cartel, unless he returns $12 million, he asks Howard Blitz, a friend and undercover cop with a shady background, to help him. First, a neighbor is killed, and then his second in command is killed. Mario and Howard are targeted to be the next murders.
These cops don't always follow all the rules. They've learned that sometimes "street justice" is a better way to handle crime and the people who are responsible for their evil deeds.
Mario reveals himself as a smart, canny, and thoughtful police officer. His years of experience and training help him consider options to solve the mysteries surrounding the crimes he's confronted with. But Mario is also filled with a big heart and kind thoughtfulness, helping some of the criminals he confronts and wondering when he might marry and have a family.
He also cares for the victims of crimes, including his coworker, Olivia, and his old friend, Zack Nelson, who are both victims of a cybercrime, when money is stolen from their online bank accounts. Helping to return the money and also seeing that the computer hacker gets some street justice is a rewarding part of his job.
Street Justice is a story filled with action, drama, mystery, relationships, and crime. It's also a front-row seat to see New Orleans from a cop's perspective: cruising the streets, dealing with injustice, while also visiting local restaurants, parks, and homes to interact with the interesting people in this unique, historic city.