Vieux Carré Detective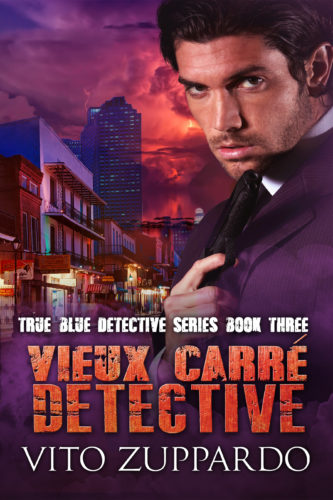 Take a trip through New Orleans like you've never seen it before.
Join Mario DeLuca, a homicide detective with the Vieux Carré Eighth Police District, as he tries to protect one of the True Blue officers. Olivia Johansson, a forensics expert with the New Orleans Police Department is drugged, run off the road, and nearly killed, for no apparent reason. DeLuca is joined on this case by Howard Blitz, an undercover cop connected to the local mafia.
Mario and Howard don't always follow the rules, but they have a way of finding the bad guys and taking care of business, one way or another. They discover that an eight-year-old robbery has ties to the current drama that's playing out. A woman was convicted and jailed for the past robbery, but new evidence surfaces that causes the two detectives to take a closer look.
While dead bodies pile up, seemingly unrelated, the detectives are able to have good drinks at local bars, great food at hometown restaurants, along with hospital visits, jail visits, and interrogations of various criminals. Showing their true colors and the reasons they know how to solve crimes; these men will touch readers' hearts with their compassion and determination
This fast-paced story has it all—intrigue, romance, humor, rivalries, crime fighters, mystery, international travel and banking—along with a tour through a historically rich and unique city.
You'll have a front-row seat as the detectives follow leads to try to unravel who tried to murder Olivia and why. Visit the French Quarter, the Garden District, the Central Business District, the Warehouse District, and even board a mafia yacht for a cruise on Lake Pontchartrain.
In this third book in the True Blue Detective series, follow author Vito Zuppardo, a former resident and New Orleans expert, to see parts of the city that will come alive. It's a spectacular way to visit the Crescent City from the comfort of your reading chair.